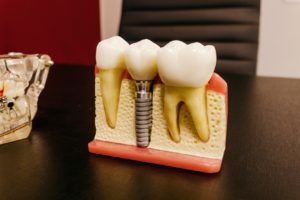 Besides their talent, celebrities are well-known for their dazzling smiles. Although their teeth might appear flawless, the size of their bank account doesn't protect them from dental problems. People from all walks of life can lose their teeth, including movie stars. Tom Cruise, George Clooney, Ben Affleck, and Demi Moore all have one thing in common–dental implants. They are among the 3 million Americans who have replaced their missing teeth with dental implants. Here's how you can revamp your smile using the same method as the top stars in Hollywood.
Choose a Long-Term Solution
A dental implant is unlike any other treatment because it recreates the entire tooth structure. Traditional prosthetics only replicate the portion above the gum line, but a dental implant goes a step further to treat both the root and crown. This creates a nearly perfect reproduction of your natural teeth using the most reliable solution for tooth loss. With over a 95% success rate, they are proven to last for decades with the proper care, like committing to your oral hygiene.
Invest in Improved Oral Functions
A titanium post is surgically placed into your jawbone to serve as a root. The post stimulates new bone growth, allowing your jaw to fuse to the post through a process called osseointegration. It can potentially stay in place forever to support a custom-made restoration that's attached using an abutment. Your new smile will look and feel natural to give your confidence and quality of life a boost.
Enjoy Unmatched Benefits
Although traditional treatments have generations of success, like bridges and dentures, they can't match the advantages of dental implants. Rebuilding the entire tooth provides several benefits, including:
95% success rate for predictable results.
Looks natural to smile confidently
Regain as much as 70% of your biting force.
Look younger by supporting your facial tissues.
Preserve your jawbone to stop dental drift.
Improve your oral health to lower overall dental costs.
Easy maintenance and care.
Long-term, cost-effective solution.
Achieve the Smile You Deserve
Dental implants are more affordable than you might realize. Every smile is unique, so there's not a flat rate for dental implants; however, that means you won't pay for anything you don't need.
After performing a consultation to ensure you're a candidate, your dentist will create a personalized plan. You can use your dental insurance to offset the fees for certain steps in your treatment, like the consultation or restorations.
Your dentist will also offer several payment options to treat your tooth loss without going bankrupt, like third-party financing. You don't have to be a millionaire to invest in a complete smile.
About Dr. Gary C. Nawrocki
Dr. Nawrocki earned his dental degree from the University of Florida before furthering his education at many prestigious institutions, including Spear Educational Institute and the Pankey Institute. He has completed advanced training in cosmetic dentistry and dental implants. Dr. Nawrocki has the experience and qualifications you can trust. Contact our office today to see if dental implants are right for you.