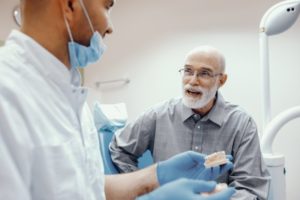 Would you like to bring back all of your missing teeth as soon as possible? All-on-4 dental implants are often the most efficient way to accomplish this goal. This method gives you replacement teeth that look lifelike, feel natural, and are capable of lasting for decades. Although All-on-4 requires oral surgery, the healing period is usually much easier than you might think. Everyone's body is different, but here's a basic idea of what to expect during the All-on-4 recovery process.
How All-on-4 Dental Implants Work
First, it's important to understand how dental implants work. After these titanium posts are surgically inserted into your jaw, they begin fusing to the surrounding bone tissue via the process of osseointegration. This gives the implants the strength they need to support any number of replacement teeth.
All-on-4 differs from traditional dental implants in that it uses a load-bearing denture that can be placed on the same day as your implants. However, they're unable to withstand the full force of biting and chewing until osseointegration is complete, which may take three to six months.
Should I Take Time Off from Work for All-on-4 Surgery?
Dentists typically recommend that patients take two or three days off from work to recover from their procedure. Of course, the nature of your job also impacts recovery time. If your job is more physically taxing, then you may need to stay at home for three or more days. Strenuous physical activity can divert blood away from the surgical site and delay healing, so it should be avoided if possible. If you have a desk job, though, you can probably get by with only taking a day or two off.
What Should I Eat After All-on-4 Surgery?
Until your gums heal, it's a good idea to stick to a liquid diet following your procedure. This can take up to two weeks. However, your implants won't finish fusing to your jawbone for several more months. During this time, try to stay away from crispy or crunchy foods that require a great deal of chewing power. Otherwise, you could place too much strain on your implants and cause them to not heal properly.
Make Sure to Attend Your Follow-Up Appointments
The key to successful All-on-4 recovery is to follow your dentist's recovery guidelines to a tee. You should also remember to go to any follow-up visits they have planned. They'll make sure your recovery is going smoothly and no complications have occurred. By keeping these appointments, you'll be fully recovered and enjoying your newly complete smile in no time!
About the Author
Dr. Gary C. Nawrocki has more than four decades of experience as a dentist in Cocoa Beach, FL. During the course of his career, he has obtained a Mastership with the Academy of General Dentistry and Diplomate status with the International Congress of Oral Implantologists. He is able to complete the entire process for All-on-4 dental implants in one location, resulting in a more convenient treatment. To learn more about what to expect when recovering from All-on-4 surgery, contact Nawrocki Dental of Cocoa Beach at 321-783-7514.