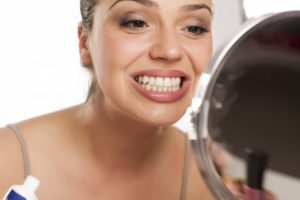 Do your pearly whites not look as, well, pearly or white as they used to? Over the years, it's perfectly normal for teeth to become stained, whether it's the result of lifestyle habits, dietary choices, or oral hygiene. Because there are so many different reasons for dental discoloration, there are also various types of tooth stains, and what works to get rid of one type of stain may not work for the others. Read on as a cosmetic dentist explains the three main kinds of tooth stains and your options for enjoying a brighter smile again.
Types of Tooth Stains
Dentists have identified three main categories into which tooth stains can fall:
Extrinsic – When a stain only affects the surface of the tooth, called the enamel, it's known as an extrinsic stain. These stains are most likely to respond to regular dental cleanings and whitening toothpaste.
Intrinsic – An intrinsic stain develops inside the tooth, making it almost impossible to remove with over-the-counter teeth whiteners. Intrinsic stains are usually a grayish color.
Age-related – As you age, the enamel of your teeth thins, exposing more of the underlying layer of yellowish dentin.
Causes of Tooth Discoloration
Stains can develop on your teeth for many possible reasons. Some of the most common ones are:
Diet – Darkly pigmented foods and drinks, such as wine, coffee, tea, and beets, notoriously stain teeth.
Tobacco use – Smoking and chewing tobacco can both lead to yellower teeth.
Oral hygiene – Not brushing or flossing often enough can cause plaque to build up and create stubborn yellow or brown stains.
Physical trauma – Injuries to the mouth can cause a tooth to become discolored from the inside.
Medications – Several types of medications, including those used to treat high blood pressure, can make teeth become stained more easily.
How Your Dentist Can Fix Stained Teeth
No matter the cause of your dental discoloration, there's a good chance that your cosmetic dentist has options that can help you smile confidently again. Based on the type of and reason behind your tooth stains, your dentist may recommend one or more of the following treatments:
Teeth whitening – For surface-level stains, your dentist can make you a set of custom teeth whitening trays and professional-strength bleaching gel that lets you whiten your smile in the comfort of your own home.
Veneers – Deeply set stains can be covered seamlessly by veneers. These thin porcelain shells completely cover the front surface of a tooth, instantly masking all of its flaws.
Dental crowns – If your tooth is discolored due to injury or wear, then a dental crown might be ideal. This personalized "cap" fits over the entire part of the tooth above the gums, improving its appearance while protecting it from damage.
Enjoy a Brighter Smile Today!
Tooth discoloration can happen to anyone for multiple reasons. If you're interested in getting rid of your tooth stains and smiling with confidence, ask your dentist which cosmetic dentistry option is right for you!
About the Author
Dr. Gary C. Nawrocki has an impressive 40 years of experience as a dentist under his belt. During that time, he has undergone advanced training in cosmetic dentistry from Louisiana State's dental school as well as the prestigious Rosenthal Institute of New York. At Nawrocki Dental of Cocoa Beach, he offers all of the treatments described in this post as ways to treat tooth stains. To find out which one is best for you, contact his office at 321-783-7514.