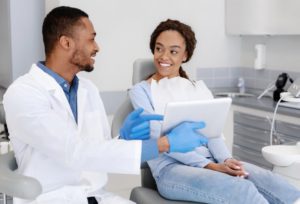 Moving can be stressful to say the least, and there are tons of things to do. Unfortunately, some important things can be missed during the transition. Recently in an appointment, a patient told us that she is moving to northern Florida. We never like to see patients leave but understand that she wants a dentist closer to home. We encouraged her to make sure caring for her smile isn't forgotten in the busy move. She asked us, "How can I find an exceptional dentist in Orange Park?"
In this particular case, we were happy to know a trustworthy dentist in the area she was moving to. Dr. Matthew Nawrocki provides the same high-quality care that she has enjoyed here. But what about any other patients who are moving? This question got us thinking about what to look for in a dental practice after a move. Here are just a few features that we recommend at Nawrocki Dental for your next dental home if you're moving away from Cocoa Beach.
Affordable Options
Do you have dental insurance benefits through your job? Choosing a dental office that is in-network can help you save on your oral healthcare costs. Before making an appointment, be sure to call to ask them about your specific plan. In some cases, even if the practice is out-of-network, their team will still work with you by filing claims on your behalf and helping you get as much back as possible.
Emergency Dentistry
Even if you diligently maintain a healthy oral lifestyle, you may experience a dental emergency every now and then. Whether you have excruciating tooth pain or your tooth gets chipped after a fall from your bike, you need a local resource to help right away. Make sure the dental office you're considering has same-day appointments available and is open during convenient times. Knowing where you can turn for help in dental emergencies before one occurs can make the situation much less frightening and stressful.
Family-Friendly Service
Let's be honest—you don't have the time or patience to go from practice to practice for each member of the family. That's a lot of wasted time and energy! Instead, you should look for a dental office that serves patients of all ages. Whether you have young children or an aging grandparent, pick a practice that has the expertise to meet your family's needs in one convenient location.
We never like to see any patient switch to another dental practice, but we realize that's important to have easy access to high-quality dental healthcare. If you are leaving Cocoa Beach, find a dental office with these features, and you'll have plenty of reasons to smile.
About the Author
In addition to his decades of clinical experience, Dr. Gary Nawrocki has trained with some of the country's most prestigious dental organizations. He has earned Mastership with the Academy of General Dentistry and Diplomate status with the International Congress of Oral Implantologists. He has also completed advanced studies with the Pankey Institute, the Seattle Institute, the Spear Educational Institute, and more! To schedule an appointment at his practice, Nawrocki Dental, contact them by clicking here.