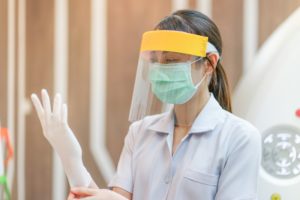 Dentists have always maintained high standards of sanitation and infection control due to the nature of their practice. One of the ways they accomplish this is by wearing several pieces of personal protective equipment (PPE). However, since COVID-19 is so contagious, your dentist and their staff will be enhancing their work wardrobe even more. Here are four important items your Cocoa Beach dentist will be wearing at your next appointment to keep you, their staff, and their entire practice healthy.
Disposable Gloves
One of the most essential items your dentist wears are disposable gloves. These act as a protective barrier between your dentist's hands and all their patients' mouths. Since infectious particles, bacteria, and viruses cannot penetrate disposable gloves, they prevent both the wearer and the patient from spreading germs to each other during treatment. Once dental care has been administered, your dentist disposes the contaminated gloves in a safe receptacle, washes their hands, and puts on a brand-new pair of gloves.
Respirators or Masks
COVID-19 is transmitted through infected respiratory droplets. Since many dental treatments produce aerosols, masks and respirators are crucial to keeping your dental team safe. They prevent the wearer from inhaling any airborne particles that could make them sick and guard their nose and mouth against any splashes as well. Similar to how COVID-19 cannot pass through disposable gloves, masks and respirators prevent the wearer from dispersing any germs in the case that they are sick without knowing.
Face Shields
Aside from the nose and mouth, the coronavirus can also enter through the eyes. That's why your dentist may be wearing a face shield. This large plastic visor covers most of the wearer's face. Unlike other PPE items, a face shield can comfortably cover the wearer's mouth, nose, and eyes all at the same time. There are especially usefully in guarding against any splashing or spattering of body fluids that may contain infectious particles. However, they are typically worn in conjunction with other masks and goggles since they don't form and air-tight seal.
Single Use Protective Coats
On some occasions, your dentist may choose to wear a single use plastic coat as an added layer of protection. This extra measure prevents any infectious particles from settling on the wearer's skin or clothes, which could then be easily transported throughout the dental office. Instead, the protective coat acts as a barrier throughout treatment, and then is carefully disposed of afterwards to contain the germs.
Now more than ever, dental professionals are wearing a wide variety of PPE to keep you healthy during your dental treatment. Although their new equipment may seem unusual at first, you can feel confident that they are fully prepared and able to keep both you and your smile healthy.
About the Author
Dr. Gary C. Nawrocki has been offering exceptional dental care and personalized treatment for over 35 years now. Nothing is more important to him than the wellbeing of his patients, which is why he has completed countless hours of continuing education in advanced dental studies. Today and always, he and his dental team go above and beyond to ensure you are as safe as possible while you receive your dental treatment. He has implemented a series of additional precautionary steps to keep you healthy in COVID-19. If you'd like to learn more about his Commitment to Safety, feel free to contact him via his website or at (321) 783-7514.