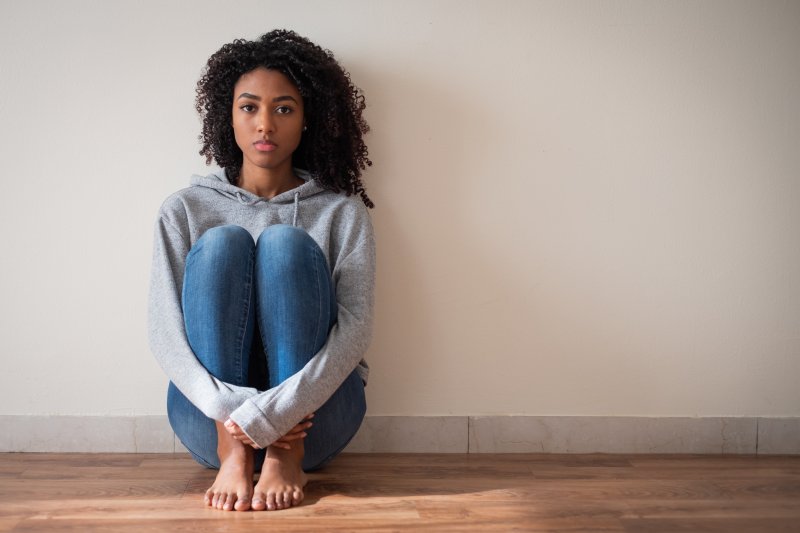 When life gets hard, feelings of anxiety and depression may begin to creep in and take over your mental health. Millions of Americans suffer in silence while appearing completely "normal" to onlookers. Unfortunately, the toll it can take doesn't just negatively impact your mind but also your smile. According to the National Health and Nutrition Examination Survey, nearly two-thirds of people living with depression claimed to have a toothache in the last year. What is the link between mental and oral health? Read on to learn what you can do to improve your health and wellbeing and start living a better life.
The Link Between Your Brain and Mouth
With an estimated 40 million adults suffering from some type of anxiety disorder, nearly 1 out of 10 Americans are battling depression with more than 80% remaining untreated. If you suffer from these mental health conditions, don't be surprised if your oral health begins to decline.
Why? Because the behavioral effects of depression and anxiety may cause you to forgo your normal oral hygiene routine as well as avoid the dentist's office, eat unhealthy foods, or even pick up poor habits such as smoking. Not to mention, when stress is present within the body, it produces cortisol, which is a hormone that can weaken the immune system as it increases. As a result, you become high risk for gingivitis, periodontitis, and other equally serious dental problems (i.e. tooth decay, bone and tooth loss).
When anxiety manifests itself, you may find that you begin to grind your teeth (bruxism), have dry mouth, or even develop oral sores because of medications you're taking or a lack of oral hygiene.
Ways to Improve Oral and Mental Health
Although you may be one of the millions of people suffering right now, you're not alone. There are numerous ways in which you can take back control of your mind and smile. It may take time, but the more effort you put in, the greater your chances of feeling better both mentally and physically.
To begin working your way back to a healthier smile, make sure you are:
Brushing your teeth twice daily for two full minutes. Use a soft-bristled and/or electric toothbrush to prevent brushing too hard.
Incorporate fluoride toothpaste into your routine to strengthen tooth enamel and protect against decay.
Floss at least once a day, preferably before bed, to remove bacteria and food particles from between teeth.
Use an antimicrobial mouthwash to rinse twice daily. This will flush out anything that brushing and flossing missed.
Keep your six-month dental checkups and cleanings. Your dentist will not pass judgment upon you but instead, will be your ally in the fight to improve your smile.
Taking better care of your teeth and gums is important, but you should also find ways to shift your way of thinking and find purpose and excitement in living once again. A few ways you can do this include:
Finding ways to relax. This can be through meditation, reading a book, enjoying a sunset or sunrise while seated on your patio.
Keep a journal, writing down your thoughts and feelings, and incorporating reminders of things you are grateful for in life.
Start exercising. Whether it is running, walking, swimming, boxing, or lifting weights, find ways to refocus your energy on improving your physical health.
Maintain a well-balanced, nutrient-rich diet full of leafy greens, lean proteins, low-fat dairy, fruits, and vegetables.
Talk to a professional. Speaking to an unbiased party can help you sort through your feelings and emotions.
With so much going on in the world today, getting lost in your head is easy. But whatever you do, find ways to destress and shift your focus onto the important things in life. Not only will this improve your mind and body, but you'll begin to smile much more, especially when your teeth and gums look and feel their best.
About the Author
Dr. Gary Nawrocki earned his Doctorate in Dentistry from the University of Florida in 1980. He has since completed advanced dental studies at the Pankey Institute, the Seattle Institute, and the Spear Educational Institute. He has also studied cosmetic dentistry at Louisiana State's Dental School and advanced aesthetics with the Rosenthal Institute of New York. Offering comprehensive services to individuals in need of dental care, he and his team want to help repair, restore, and improve smiles daily. If you are ready to take charge of your oral health, contact us at (321) 783-7514.