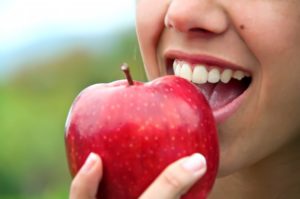 With all the stress of the COVID-19 pandemic, the last thing you want to deal with is a sudden dental emergency like a severe toothache or a knocked-out tooth. While your emergency dentist is still open to treating these issues, they're still massively unpleasant and you're going to want to prevent them at all costs. Fortunately, your dentist has written this guide on how to avoid dental emergencies by eating foods that are beneficial for your teeth and gums.
What Foods Should You Avoid?
To best avoid dental emergencies, stay away from the following items:
Hard candies. Sucking on sweets bathes your teeth in sugar, increasing your risk for painful cavities. Additionally, biting down on them could chip or crack your teeth.
Ice. Although not technically a food, ice chewing is an incredibly harmful habit that can fracture your teeth if you're not careful.
Citrus fruits. Lemons, oranges, and limes contain lots of acid that can wear down your enamel over time, resulting in tooth sensitivity. They can also irritate mouth sores. Drink plenty of water if you're going to consume citrus fruits.
Sticky foods. Items like gummy candies and dried fruit can get lodged in the nooks and crannies of your teeth and attract harmful bacteria. In addition, they can yank out dental restorations like crowns, bridges, and fillings.
Alcohol. Alcohol dries out your mouth, so leftover food particles don't get washed away. If you're going to drink, sip plenty of water as well.
What Foods Should You Eat Instead?
Instead of ruining your oral health with the foods listed above, stick to a mouth-healthy diet by consuming the following:
Dairy products. Cheese, milk, and low-fat yogurt are among the most beneficial foods out there for your teeth. They're rich in calcium, which strengthens your teeth against decay.
Leafy greens. Spinach and kale contain compounds, like folic acid, that fight gum inflammation and other oral infections.
Apples. Chewing on the fibrous skin of an apple stimulates the flow of saliva, which washes leftover bacteria and food particles out of your mouth.
Almonds. These nuts are a great source of calcium and protein while also being low in sugar. Just be careful that you don't bite down on them too hard.
A dental emergency is the last thing you need to deal with during a global pandemic. However, by sticking to the advice outlined in this post, you can most likely keep dental emergencies at bay.
About the Author
Dr. Gary C. Nawrocki is a 1980 graduate of the University of Florida's dental school. He holds a Mastership with the Academy of General Dentistry as well as a Diplomate status with the International Congress of Oral Implantologists. His practice in Cocoa Beach, FL is only open for treating dental emergencies. If you think you may have one, don't hesitate to contact Dr. Nawrocki at (321) 783-7514.