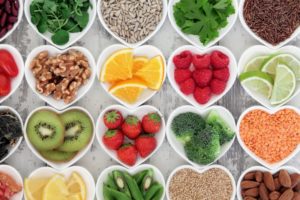 Now is an excellent time to start eating healthier since March is National Nutrition Month! Good nutrition is essential for every part of your body, including your mouth. In fact, the right additions to your daily diet can strengthen your teeth, fight off gum disease, and improve your oral health. So this month, start snacking your way towards a better smile with these nutritious foods.
Vegetables High in Fiber
Eating more vegetables is a great way to lower your risk of tooth decay. Vegetables naturally contain less sugar than other foods like candies, crackers, and fruits. This means they provide much less fuel for the oral bacteria that creates cavity-causing acids. Not only that, but raw vegetables that are high in fiber gently scrub the surfaces of your teeth as you chew them, brushing away any accumulating plaque. A few great options of these cavity-fighting vegetables include cucumbers, carrots, and celery.
Sources of Calcium & Phosphorus
Your enamel may be the strongest substance in your body, but it's unable to repair itself as it becomes worn down over time. Thankfully, it can replace the minerals it's lost by absorbing the calcium and phosphorus in the foods you eat. These two important vitamins work together to maximize their effectiveness. Not only do they strengthen your teeth against chips, cracks, and fractures, but they also fortify your jawbone and reinforce the connective tissues that hold your teeth in place. Calcium is commonly found in dairy products like milk, cheese, and yogurt, but it is also in canned salmon, tofu, almonds, and spinach. Meanwhile, phosphorus is contained in lean meats like chicken and turkey, as well as beans, nuts, and dark, leafy greens.
Foods Rich in Vitamin C
If plaque and tartar build up in your mouth, you may develop a bacterial infection in your gum tissue known as gum disease. This common oral health issue initially causes inflamed gums that bleed easily, but it can lead to serious problems like permanent tissue damage, tooth loss, and an increased risk of heart disease. Thankfully, gum disease can be prevented with great oral hygiene and healthy gums. Boosting your immune system with foods that are rich in vitamin C can help fight off the infection and keep oral bacteria at bay. This important nutrient is well-known for being found in citrus fruits like lemons, oranges, and pineapples, but it can also be found in less acidic items like broccoli, bell peppers, kale, sweet potatoes, and cantaloupe.
There's no better time to start snacking your way towards a better smile than National Nutrition Month! Eating more of these healthy foods is a natural and delicious way to improve your oral health.
About the Author
At Nawrocki Dental in Cocoa Beach, FL, we believe that the ideal way to treat oral health issues is to prevent them from developing in the first place. Regular dental checkups every six months allow Dr. Gary C. Nawrocki to help keep your teeth strong and your gums healthy. If any issues are detected, he also offers a range of services that can help you overcome nearly every obstacle to get your oral health back on track. To learn more practical tips for keeping your smile healthy at home, feel free to contact him via his website or at (321) 783-7514.