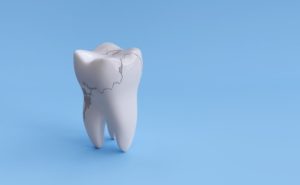 Do you know your tooth enamel is important, but aren't exactly sure why? This incredibly hard and resistant outer shell of your teeth helps protect them from decay and infection, preserving the structure of your smile. Although many people are aware that it's the strongest substance in the body, researchers recently learned that with proper maintenance, it can last an entire lifetime. Read on to learn about the latest dental findings and how you can avoid enamel erosion.
The Microscopic Structure of Enamel
In September of 2019, researchers from the Massachusetts Institute of Technology set out on a mission to understand tooth enamel better by getting it under a microscope and observing its structure. They discovered that the outer layer of teeth is made of complex patterns of individual crystals, like a suit of intricately woven chainmail armor.
This unveiling made them interested in seeing if this crystal alignment differs among people, and they found that it does. Next, they developed a computer model of the various crystal patterns to help them determine whether the alignment of these crystals affects the lifespan of enamel. They put these various enamel constructions up to virtual tests such as chewing food and biting nails, and found that through several trials, enamel that had smaller angles between adjacent crystals was better protected from cracks and dental damage.
The Causes of Enamel Erosion
Even though these patterns are determined by genetics, that doesn't mean that you can't have any control over how rapidly your enamel erodes. There are several ways that deterioration can occur. Acid produced by harmful oral bacteria or found in certain foods and beverages such as red wine and citrus are a key player in this oral issue. Even if the crystal pattern on your tooth enamel is stronger than others, if you don't take care of it, your teeth will still be at risk due to deterioration. In addition to food, some other causes of erosion include:
Acid reflux disease
Dry mouth
Genetics
Stress and excessive wear-and-tear
Certain medications such as antihistamines
Ways to Preserve Your Enamel
Preserving your enamel is the key to protecting your teeth so they can remain healthy for the rest of your life. Without this protective layer, your teeth won't have the tools they need to prevent serious oral problems such as decay, infection, and even tooth loss. That's why it's vital to take precautionary measures to rebuild and preserve your enamel by altering your daily habits and diet. Here are some tips for enamel preservation:
Diligently brush twice each day and floss at least once.
Limit your consumption of carbonated drinks.
Cut back on foods that are high in sugar and carbohydrates.
Visit your dentist for checkups and cleanings every six months.
Quit bad oral habits like teeth grinding.
The first sign of enamel erosion is typically dental sensitivity to hot and cold temperatures. If you experience this, be sure to mention it during your next routine appointment with your dentist. They can provide you with recommendations and certain tools to help keep your enamel intact for the rest of your life.
About the Author
Dr. Gary Nawrocki is passionate about helping his patients keep their natural smile intact for their entire lives through routine preventive dental care. With thorough checkups and cleanings every six months, his goal is to diagnose and treat small oral health problems before they become more severe. He also provides his patients with the knowledge they need to prevent enamel erosion and other uncomfortable oral issues from developing. For questions or to schedule a routine appointment, visit Nawrocki Dental's website or call 321-783-7514.