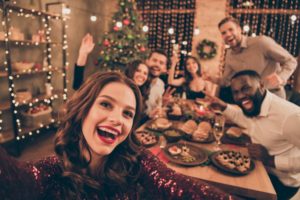 No matter how old we are, we all want something for the holidays, whether it's a new toy or simply to spend time with the ones you love. Your dentist is no exception! Believe it or not, they have holiday wishes too – mainly that your teeth and gums stay in good condition. That can be hard this time of year, what with all the sweet treats readily available. Here are a few tips to honor your dentist's wish list and stay cavity-free this holiday season.
1. Eat Your Sweets with Your Meals
While it's common to wait a while after eating to enjoy dessert, this is actually detrimental to your oral health. Enjoy your sweets during or shortly after mealtime. This is because your mouth produces more saliva while you eat meals. It might sound gross, but you actually want more saliva, not less. Saliva helps wash away leftover food particles that could cause cavities and gum disease. It also neutralizes the acids created by bacteria in your mouth and strengthens your teeth.
2. Stay Away from Sticky Foods
Many people eat dried fruit when they're trying to be healthy. Dried fruit, however, is pretty sticky. Sticky foods tend to stay on the teeth longer than other kinds of food. When it comes to developing cavities, the amount of sugar you eat generally doesn't matter as much as how long that sugar remains on your teeth. If you find yourself eating a lot of dried fruit like cranberries, be sure to rinse your mouth out with water or brush your teeth afterwards.
3. Limit Your Alcohol Intake
Alcohol reduces the amount of saliva you have, causing dry mouth. This can increase your risk for tooth decay and gum disease (as well as hangovers!). A good rule of thumb is to have one glass of water for every alcoholic drink you consume to offset dry mouth.
4. Go Easy on Hard Candies
Besides being chock full of sugar, hard candies also run the risk of chipping or breaking your teeth if you chew on them. Be careful not to chip or break your teeth trying to crack nuts as well.
5. Watch Out for Starchy Foods
Starchy foods like bread, pasta, and potato chips are sneaky because we don't often think of them as being bad for our teeth. You know how when you eat sugary foods, bacteria in your mouth create acid that erode the tooth enamel, causing cavities? The exact same thing happens when you eat starches. Be sure to brush and floss after eating them to remove any plaque that might build up.
Following these tips to stay cavity-free is the best way to fulfill your dentist's holiday wish list. That, and coming in for a checkup and cleaning before the end of the year!
About the Author
Dr. Gary C. Nawrocki earned his Doctor of Dental Medicine degree from the University of Florida in 1980. He has achieved Mastership status with the prestigious Academy of General Dentistry and Diplomate status with the International Congress of Oral Implantologists. His practice, Nawrocki Dental in Cocoa Beach, FL, offers checkups and cleanings to help keep your teeth and gums in good condition. To schedule one, click here to contact his office.