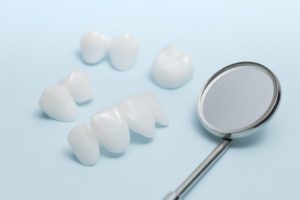 Porcelain veneers can make you feel like a movie star. They are a popular cosmetic choice in Hollywood, helping stars like Tom Cruise and Miley Cyrus perfect their smiles for the big screen. These thin shells of porcelain can dramatically transform chipped, cracked, or stained teeth into a flawless, durable, and natural-looking smile. They're stain resistant too, so you can flash those pearly whites confidently even after your cup of black coffee. However, if your veneers ever do become discolored for any reason, regular teeth whitening won't be able to restore their brilliant shine. Read on to learn from your cosmetic dentist what can cause discoloration in your porcelain veneers, and what you can do about it!
Gum Recession
Have you ever heard people refer to older age as "long in the tooth?" No, your teeth don't get longer over the years. But your gums do naturally recede and pull away from your teeth over time to create this illusion. If you have veneers, the adhesive that fixes them to the front of your teeth may become exposed. While the veneers themselves will remain flawless, the now revealed adhesive can easily stain.
Unfortunately, gum recession happens to everyone eventually. While you may not be able to fully prevent the veneer adhesive from discoloration, making a conscious effort to keep your gums healthy will help protect them. Keep up your good dental habits like regular brushing and flossing and be sure to routinely see your dentist to check up on the health of your gums!
Trauma
Whether it's a fall, a sports injury, or just the result of being clumsy, trauma is always bad news for your teeth. Porcelain veneers may be strong, but they are by no means intended to be adequate protection from an impact. Your veneer may not break, but if the sensitive layer of dentin underneath is damaged, it will darken.
Since veneers are thin, you may be able to see this discoloration through them. To make them look whiter again, the tooth underneath needs to be whitened. You dentist can professionally whiten the back of the damaged tooth, lightening the stain until it no longer shines through.
Veneer Material
Dental veneers weren't always as flawless and durable as they are today. Before porcelain veneers were introduced, dental veneers were made of a variety of other materials. Not only did these composite veneers look less lifelike than porcelain ones, but they were more porous as well, so they could stain much easier.
If you have older composite veneers that have stained over time, you can replace them with porcelain ones. Porcelain reflects light more like natural teeth do, are biocompatible, and are resistant to stains, making them an ideal choice for a perfect smile. Replacing your old veneers is a quick and simple process with astonishing results.
So get the red carpet-ready smile you deserve with porcelain veneers! Your trusted cosmetic dentist can help keep your pearly whites shining brilliantly and confidently, even through life's unexpected twists and turns.
About the Author
Dr. Gary C. Nawrocki is a cosmetic, preventive, and restorative dentist in Cocoa Beach, FL. He is a current member of the American Dental Association, the Florida Dental Association, the American Academy of Cosmetic Dentistry, and the Academy of General Dentistry as well as a past president of the University of Florida Dental Alumni. He is dedicated to building beautiful smiles that last for years with the help of a variety of cosmetic services, including porcelain veneers. If you'd like to know more, he can be contacted at his website or at (321) 783-7514.