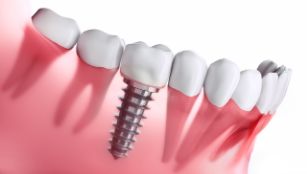 With a success rate of around 98% in non-smokers, one of the best things about dental implants is their low risk of failure. But, unfortunately, no medical procedure (including implants) is risk-free. While relatively rare, dental implant infections can lead to implant failure and damage the surrounding jawbone. But, with a few preventative measures and the right care and maintenance, you can greatly reduce your risk of infection. Keep reading to learn about the symptoms to watch for, how an infection is treated, and how you can avoid one altogether.
What Are the Signs of Implant Infection?
Getting an implant involves a small, in-office surgery. With any surgery, no matter how minor, there's always a risk of infection. Here are common symptoms to be aware of:
Inflammation (e.g. red, tender, swollen, or bleeding gums)
Moderate or severe pain or discomfort when chewing
A loose implant
Receding gums around the implant
How Is an Infection Treated?
If you notice any of the symptoms mentioned above, or if something just doesn't feel right with your dental implants, let your dentist know right away. The earlier problems are found and treated, the better.
Treatment may include any combination of the following: a prescription-strength anti-bacterial mouth rinse, antibiotics, surgery, a special type of professional cleaning, or laser treatment. After evaluating the infection, a dentist will create the best treatment plan to minimize the risk of implant failure.
How Can You Prevent Infection?
Fortunately, there are some things you can do to reduce the risk of infection, right from the start:
If applicable, stop smoking before the procedure.
Closely follow your post-operative instructions from your dentist or surgeon.
After the first two days have passed after your surgery, gently rinse your mouth out with salt water several times a day. This is a safe, gentle, and effective way to kill bacteria and promote healing.
It's very important to keep the area clean with brushing and flossing, but do so gently and carefully.
For the first two weeks or so after your surgery, minimize or avoid hard, crunchy foods. Instead, focus on soft foods such as yogurt, soups, bananas, smoothies, cottage cheese, guacamole, scrambled eggs, oatmeal, applesauce, mashed potatoes, etc.
Then, for long-term maintenance, be sure to continue coming in for regular checkups and doing well with brushing and flossing. With implants (and your oral health in general) a little prevention will go a long way.
The risks of dental implants are low and the benefits are high. With these simple guidelines, you'll give them an even greater chance of success from the very beginning.
About the Author
Dr. Gary C. Nawrocki has been practicing dentistry for over 40 years and, with advanced training in implant dentistry, is a Diplomate of the Americana Board of Oral Implantology. He always educates his patients about how to care for their implants to minimize the chance of infection and enjoy their many benefits for life. If you have any other questions about dental implants, he can be reached via his website.