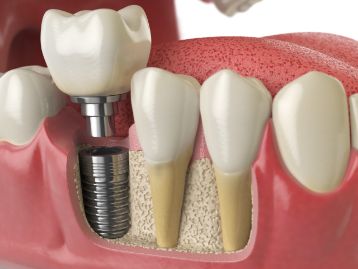 Did you know that 3 million people in the U.S. have dental implants and an additional 500,000 implants are placed each year? It's easy to see why implants are such a popular way to replace missing teeth – they not only look and feel more natural than any other option, but they can last many decades as well. But one of the first questions many people have is how long it will take them to heal after the procedure. After reading the blog below, you'll learn all about the dental implant process and what you can expect from the recovery!
How Do Implants Work?
Dental implants are titanium posts in the jaw that replace the roots of missing teeth. Replacing the root is why they provide more stability and chewing strength than other options, while also maintaining your jawbone and facial structure.
The procedure involves two phases:
During the first phase, the implant itself (the titanium post) is placed in the jaw during an in-office procedure that typically takes 1-2 hours per implant.
Next, the implant is given quite a bit of time to fuse with the jawbone, during which you can eat, drink, and function normally.
Finally, a crown, bridge, or denture will be attached to the implant to complete the restoration.
How Long Will It Take To Heal?
After the surgery, most of the initial healing of the gum tissue occurs within a week or so. The second "healing phase" is a process called osseointegration in which the implant fuses with the jawbone. The average timeline for this process is 4-6 months.
Having said that, each patient is different so this can vary depending on individual factors such as:
How many implants are needed
Whether preliminary procedures are needed beforehand such as a bone graft, which can make the process a year or more from start to finish
Your general ability to heal, which is largely affected by your overall health, age, oral hygiene, and other factors
The health of your jawbone
After a consultation, a dentist can give you a more individualized estimate for your situation. In many cases, they can also put a temporary restoration in place after the initial surgery so you have a full set of teeth while waiting for the permanent restoration.
How Can You Encourage Healing?
Here are some tips for encouraging the initial healing process during the first week or so:
Abstain from alcohol and tobacco use
Eat soft, nutritious foods (soups, rice and beans, cottage cheese, smoothies, yogurt, soft cheese, oatmeal, etc.)
Avoid hot foods and drinks
Don't drink with a straw
Gently brush the area at least twice a day to keep it clean
Implants look and feel very natural and, since they can last a lifetime, they're also an excellent long-term investment in your oral health. The recovery time is a bit longer than other options, but these benefits make implants worth the wait!
About the Author
Dr. Gary C. Nawrocki has over 40 years of experience as a general, cosmetic, and restorative dentist. He knows how much dental implants make a difference in his patients' quality of life after tooth loss and is always available to answer questions about the dental implant process. If you'd like to know more, he can be reached via his website or at (321) 783-7514.