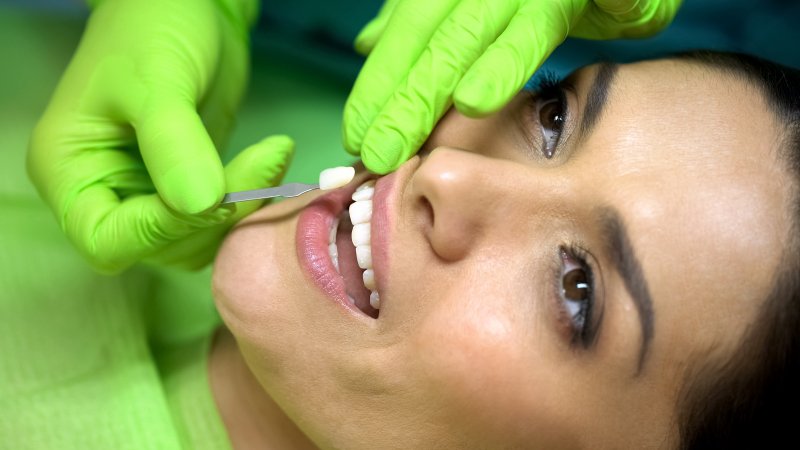 Are you happy with your smile? Many people find themselves insecure as a result of their teeth not appearing exactly how they'd like. Whether you have discoloration, a few misshapen teeth, or don't like the gaps that are apparent when you show off your smile, porcelain veneers may be the solution. There are all sorts of potential benefits of porcelain veneers in Cocoa Beach that you may have not even thought about. Here are just some of them.
Porcelain Veneers Involve a Minimally Invasive Procedure
Having dental veneers placed only involves a minimally invasive procedure. First, your dentist will remove ½ millimeter of enamel off the front surface of the teeth where the veneers will be placed. You will receive temporary veneers until your permanent ones are ready. They will be cemented to the teeth. Patients require little to no anesthesia for this procedure.
Veneers Fix a Variety of Cosmetic Issues
There are all sorts of aesthetic imperfections that veneers can be easily corrected with porcelain veneers. Here are some of the most common:
Chipped teeth
Gaps
Misshapen teeth
Discolored or stained teeth
Minor misalignment issues
Dental Veneers are Durable and Permanent
While veneers are not necessarily made to last forever, they are a permanent fix. They are nonporous so they can resist stains and cavities much better than your natural tooth enamel. When you care for them properly, veneers can last between 10 and 15 years or even longer!
Veneers Are Easy to Maintain
You don't need to do anything extra in order to care for your veneers after you get them. Just treat them like you would with natural teeth. Brush, floss, rinse, and see your dentist every six months for regular cleanings and checkups.
Porcelain Veneers Are a Permanent Whitening Option
Some patients regularly come in for teeth whitening, but veneers are another option. They are resistant to staining from habits like smoking and drinking coffee. It will no longer be necessary to invest in over-the-counter and professional whitening treatment in order to achieve desired results. Your dentist will be able to have your veneers designed to be the perfect color for you.
Dental Veneers Look Natural
Your permanent veneers will be customized so they are made to match the exact size, shape, and color needed to blend in seamlessly with the rest of your smile. Even though the appearance of your smile will be flawless, no one will be able to tell that you've had work done.
If you're still on the fence about investing in porcelain veneers, don't forget to consider all of these benefits. You have the ability to achieve the smile of your dreams in no time!
About the Author
Dr. Gary C. Nawrocki is an experienced dentist who has been working in the field for four decades! He is currently a member of numerous professional organizations including the American Dental Association and the American Academy of Cosmetic Dentistry. He also has a Mastership with the Academy of General Dentistry and studied cosmetic dentistry at Louisiana State's Dental School. For more information on porcelain veneers or to schedule a consultation, visit his website or call (321) 783-7514.