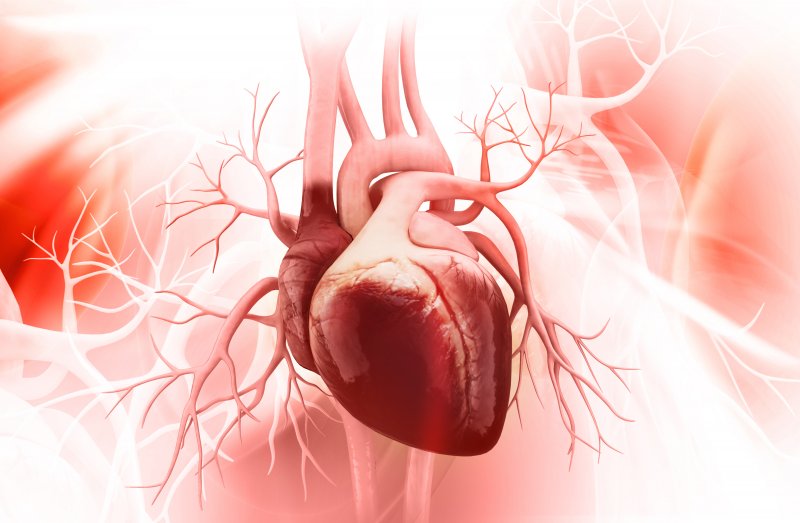 Since February is here, you probably have one main date on your mind – Valentine's Day! However, there is more than just one reason to think of your heart this month. February is American Heart Health Month. There is no better time to think about your cardiovascular wellbeing than now. One of the ways that you can work to keep your heart in excellent health is by taking care of your smile. The two have more in common that you know. Continue reading to learn more about their relationship and what you can do to keep both your smile and heart in excellent shape!
How Are Oral and Cardiovascular Health Related?
Periodontal disease, also known as gum disease, is a very common issue throughout the United States. In fact, approximately have of all American adults over the age of 30 are suffering from it at one severity or another. This is defined as an infection of the tissue that surrounds and supports the teeth. When it is left without treatment, it can progress, causing irreversible issues, such as gum recession, loose teeth, tooth loss, and jawbone deterioration.
Gum disease is not limited to the oral cavity. In fact, people who are dealing with gum disease are more likely to endure other health issues in different areas of the body, including diabetes and heart disease. It isn't clear exactly what the connection is, but it is believed that people with gum disease are three times more likely to experience a heart attack, stroke, or another serious cardiovascular event in the future.
How Can You Prevent Gum Disease?
While gum disease is common, it is also very easy to prevent. Here are some of the steps that you can take in order to reduce your risk of developing it yourself:
Brush Twice a Day: In order to remove food debris, plaque, and bacteria from your smile, you need to be brushing twice a day with a soft-bristled toothbrush and a fluoridated toothpaste. Don't forget to give your tongue a scrub as well!
Floss Daily: Brushing isn't enough on its own. You need to floss in order to remove both plaque and bacteria from between the teeth and beneath the gumline.
Don't Smoke: Smoking doubles your risk of developing periodontal disease and is linked to oral cancer. Talk to your friends, family, and doctor about the best ways to give up this harmful habit.
Schedule Cleanings and Checkups: Every six months, you should see your dentist for a cleaning and checkup. They will be able to determine whether you'd benefit from gum disease therapy.
Understand Your Risk: Certain facts can increase your risk of developing gum disease, like age, genetics, and diet.
By using the tips listed above, you can prevent gum disease from affecting you. This is just one of many ways to keep your heart healthy!
About the Author
Dr. Gary C. Nawrocki is an experienced dentist who has been working in the field for over four decades! He earned his DMD from the University of Florida and has completed advanced dental studies at the Pankey Institute, the Seattle Institute, and the Spear Educational Institute. Currently, he is a proud member of the American Dental Association, Florida Dental Association, American Academy of Cosmetic Dentistry, and the Academy of General Dentistry. If you are struggling with periodontal disease, he would be happy to help. For more information or to schedule an appointment at his office in Cocoa Beach, visit his website or call (321) 783-7514.