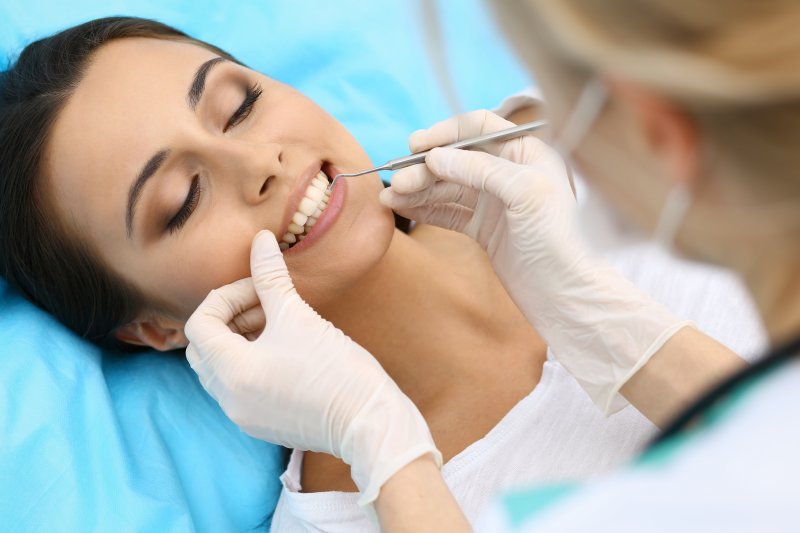 You and your friends are planning for a weekend of fun on the beach, and you've already got your bathing suit, beach essentials, and camera ready to go. Before you head out the door, you take a quick look in the mirror only to see stains and discoloration on your teeth staring back at you. Realizing this isn't the smile you want to be remembered in pictures, you stow away the camera. If this situation sounds familiar, don't let your camera continue to gather dust. Find out how your cosmetic dentist can fix your imperfections and give you the appearance you want to smile with confidence at your next social gathering.
Cosmetic Dentistry: The Services Offered
Nowadays, there are more and more cosmetic dentistry services available that it can be hard to decide which one is right for you. From teeth whitening to porcelain veneers, you can truly see a dramatic difference in how your smile looks and feels. If you're struggling to decide how you want to enhance your smile's aesthetics, here are a few suggestions:
Porcelain Veneers
Using thin shell coverings made of porcelain, your cosmetic dentist can cover any imperfections that exist on your teeth, including:
Chips/Cracks
Stains and discoloration
Gaps between teeth
Minor misalignments
Misshapen teeth
Teeth that appear too small or too large
Crooked teeth
In just two appointments, you can have a fully transformed smile. The first visit will include your dentist slightly altering your teeth by removing a small bit of enamel from your tooth's surface before taking impressions and choosing a shade that is close to your natural tooth enamel. During your second visit, you will have your porcelain veneers carefully put into place.
Teeth Whitening
If it is stains and discoloration that have you running for cover, your dentist can provide you with take-home whitening kits, so you can brighten your smile on your own time. During your first appointment, they will take impressions of your smile, so custom-made whitening trays can be created. This will ensure a proper and comfortable fit. The second visit will have you receiving your trays as well as the professional-grade whitening gel.
You will need to wear your trays either half an hour or overnight depending on the instructions provided by your dentist. Within two weeks, you will notice a significantly brighter smile.
Crown Lengthening
Maybe it's not your teeth that are necessarily the problem but your gums. In this situation, your dentist might recommend crown lengthening. Not only is this used for cosmetic purposes, but if you require restorative treatment that involves placing a dental crown, this type of procedure can remove excess tissue and expose additional tooth structure for proper restoration placement.
Gummy smiles or teeth that appear too short can be easily remedied with crown lengthening. Your dentist will carefully remove the tissue from around the teeth and reshape your gum line to create a more aesthetically pleasing smile. Within 2-3 months, you will be completely healed.
Gum Grafting & Recontouring
Only in situations where gum tissue is too thin, or tooth roots are exposed will your dentist suggest a gum graft or gum recontouring. Periodontal disease, gum recession, or exposed tooth roots are what typically lead patients to this type of procedure, but you can feel confident that your dentist will take proper steps to ensure you are comfortable and at ease throughout the process.
Your dentist will use tissue from your palate or a tissue bank to place in the surgical area. Once sutured, you will spend the next six weeks healing from your procedure.
How Your Smile's Aesthetic Increases Your Confidence
No matter what type of cosmetic dentistry procedure you have completed, you will see noticeable results that will have you proud to show off your new smile. When you look good, you feel even better about yourself, allowing you to exude the confidence you once lost.
A beautiful, healthy smile can not only help you get the job of your dreams, but it can also capture the attention of others, which can work to your advantage if that attractive guy you've been eyeing plans on joining you and your friends at the beach next time.
About the Author
Dr. Gary Nawrocki received his dental degree from the University of Florida in 1980 and has dedicated his general practice to cosmetic and restorative dentistry. As a dentist in Cocoa Beach, Florida, he has studied cosmetic dentistry at Louisiana State's Dental School and advanced aesthetics with Rosenthal Institute of New York. Believing the way a smile looks can improve a person's self-esteem, Dr. Nawrocki offers a wide range of cosmetic dentistry services. To learn more about how you can improve your smile, visit our website or call (321) 783-7514.