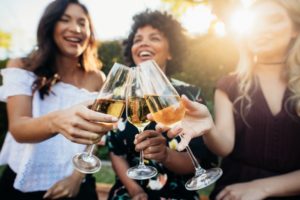 As a person who works full time, a parent, or a student bombarded by upcoming papers, it can be hard to remember to drink water and stay hydrated. Most of the time you reach for a drink, it's with the purpose to keep you awake, help you feel relaxed, or it's just conveniently in front of you at the gas station. You're probably not always thinking about the impact that it's going to have on your oral health. Read on to learn whether these five popular beverages in Cocoa Beach are helping or harming your mouth.
Wine
You probably think red wine is on the list because it's popularly known to stain teeth. But, did you also know that it's incredibly acidic? White wine contains acids that can cause severe enamel erosion, making your teeth vulnerable to staining, cavities, and infection. So, next time you're debating between a red or white wine in the grocery store, go with red for the sake of your pearly whites.
Coffee
Coffee won't just give your teeth a brown-ish tint over the years. According to a study published in the Journal of Conservative Dentistry, coffee can actually prevent cavities when it's consumed plain. Coffee that has been roasted actively fights against Streptococcus Mutans, which causes dental decay. It prevents the organism, along with other cavity-causing materials like sugar, from attaching to your teeth. So, next time you pick up a good ol' cup of joe, ask for the roasted beans with no added cream or sugar!
Sparkling Water
Carbonated beverages like sparkling water and sodas are incredibly acidic and can erode your enamel. Even if you're enjoying a sugar-free drink, it's still bad for the health of your pearly whites. While sparkling water is a better choice, you can limit the contact that the acid has on your teeth by drinking it through a straw. Another habit to avoid after you polish off your soda is chewing the ice at the bottom of the glass. It can increase your risk of cracking or breaking a tooth, leaving you in a dental dilemma!
Alcoholic Drinks
You've most likely heard that alcohol can damage your teeth, but did you know it's not always due to the liquor? The most common mixed drinks include soda and fruit juices, which are all high in sugar and can stain your smile. Because alcohol can dry out your mouth, allowing bacteria to accumulate, it's important to keep hydrated by drinking plenty of water while you're enjoying it.
Sure, you can justify drinking some of these delicious beverages now, but your best bet is to stick with water. If you are going to consume them, be sure to swish your mouth with plain water afterward. It's also a good idea to brush your teeth 30 minutes afterward to remove the surface stains and prevent harming your weakened enamel.
About the Author
Dr. Gary Nawrocki has a mastership with the Academy of General Dentistry and Diplomate status with the International Congress of Oral Implantologists. He has also completed a variety of advanced dental training so he can provide his patients with the highest quality of care. As an active member of several professional organizations, he keeps up-to-date with the latest techniques and technology introduced to the dental field. For questions or to schedule a routine checkup and cleaning, visit Nawrocki Dental's website or call 321-783-7514.