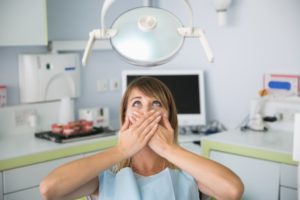 If you have ever avoided the dentist out of fear, you're not alone. About 20 percent of Americans are so scared of the dentist that they will only seek dental treatment when it's absolutely necessary. Whether you fear the loss of control in the dental chair, painful procedures, or simply don't like people poking around in your mouth, dental anxiety can be debilitating. It can lead to poor oral health down the road, which is why it needs to be addressed and treated right away. Keep reading to learn 7 tips to beat dental anxiety.
1. Find the Right Dentist
Some people have dental anxiety because of bad experiences with a dentist when they were younger. It's critical to recognize that every dentist is different, and there is sure to be one out there who can help you relax and get the treatment you need. Ask friends and family members to recommend dentists with a calm demeanor. Call each of them or visit their office. If the atmosphere is friendly, that's a good sign the dentist won't be scary in the slightest.
2. Communicate Your Anxiety
The key to any good relationship is communication, and your relationship with your dentist is no exception. If you're vocal about your fears from the beginning, your dentist can work with you and create a treatment plan that meets your needs.
3. Bring a Friend to Your Appointments
Let a trusted friend or family member, preferably one without dental fear, tag along with you on your visits. Having a companion there can help offer extra reassurance that everything will be fine.
4. See If Your Dentist Offers Sedation
Sedatives can keep you calm enough to receive the care you need worry-free. Your dentist offers nitrous oxide, where you breathe "laughing gas" through a mask, and oral conscious sedation, where you will take a pill before your appointment that will keep you awake but relaxed and happy. Talk with your dentist about which option might work best for you.
5. Distract Yourself
Distraction is one of the best treatments for anxiety. Watch a funny or feel-good video before your appointment to put you in a positive headspace. During the procedure, see if you can listen to calming music or use a fidget toy to take your mind off what the dentist is doing.
6. See a Psychologist
Many psychologists specialize in addressing phobias such as dental fear. If your fear is so intense that none of the tips listed above worked for you, you might benefit from talking through your worries with a mental health professional.
7. Reward Yourself
If you make it through a dental procedure without too much fear, do something nice or fun for yourself, like a trip to the amusement park or that new restaurant you've been curious about. You will come to associate the dentist's office with treating yourself, and your fears will subside.
Dental anxiety is no fun, but it doesn't have to be the end of the world. Follow the steps listed here to make the dentist's office a not so scary place and get the care you need.
About the Author
Dr. Gary Nawrocki earned his dental degree from the University of Florida in 1980. He is a member of several organizations, including the American Dental Association, the Florida Dental Association, and the Academy of General Dentistry. At his practice in Cocoa Beach, FL, he offers both nitrous oxide and oral conscious sedation to help you relax during your appointments. To learn more contact Dr. Nawrocki at (321)-783-7514.