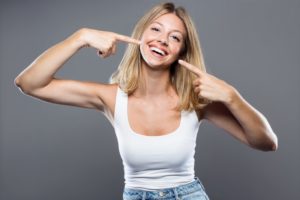 Porcelain veneers in Cocoa Beach have the power to transform your teeth! These small, custom-made tooth covers can disguise a wide range of cosmetic flaws, from discoloration to chips and cracks and everything in between. One of the best things about this treatment is how long its results last. Let's take a moment to talk about how veneers can help you enjoy many years of beautiful, confident smiles.
Porcelain Veneers: A Permanent Smile Makeover
When you decide to commit to porcelain veneers, your cosmetic dentist in Cocoa Beach will prepare your teeth by removing a sliver of enamel from them. This is an important step because it makes sure that the veneers will line up well with your natural smile and not feel overly bulky in your mouth. You'll wear a temporary veneer while a laboratory creates your custom veneers. Then, when they're ready, your dentist will permanently affix them to your teeth.
Because a bit of tooth modification is a necessary part of the veneer process, those teeth need to remain covered. If they get exposed to food and drink, they may be extremely sensitive and more prone to decay than teeth have not been modified. Therefore, you'll need to keep your teeth covered with veneers for the rest of your life.
Commit With Confidence
The vast majority of people who choose to receive veneers have no regrets about their decision. That is because in addition to giving you a gorgeous, natural-looking grin, veneers offer other benefits as well:
Porcelain is resistant to stains, and it is very durable. You can reasonably expect each set of veneers for at least 10 years.
Veneers do not decay like natural teeth. Of course, you'll still need to maintain good oral hygiene to take care of the teeth that support them.
When you consider how long they last and their superior aesthetics, veneers may offer a better monetary value than other cosmetic treatments, such as dental bonding.
Caring for Your Veneers
After some years, your veneers may start to fall off or lost a bit of their original beauty. However, you can extend the lifespan of each set of veneers by taking a few simple steps to care for them:
Consume dark foods and beverages in moderation. Veneers resist stains, but they can become discolored over time if they're exposed to excessive amounts of staining substances.
Don't bite on any hard substances that might chip your veneers, such as ice, jawbreaker candy, or non-food items.
See your dentist in Cocoa Beach for regular checkups so they can make sure the teeth under the veneers are healthy.
Always wear a mouthguard when you play sports.
Porcelain veneers can give you decades of gorgeous smiles! If you are ready to transform your stained, cracked, or otherwise unattractive teeth, ask your dentist about this remarkable cosmetic treatment.
About the Author
Dr. Gary Nawrocki has been practicing dentistry for almost 40 years. He is a member of the American Academy of Cosmetic Dentistry and has undergone advanced training in dental aesthetics. If you would like to ask him how porcelain veneers may be able to benefit you, contact our office at 321-783-7514.