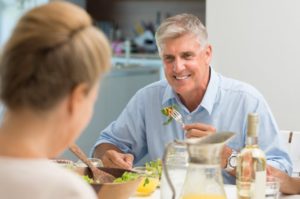 Dentures in Cocoa Beach are a great way to replace your missing teeth and regain your confidence. Admittedly, however, there is a bit of a learning curve when you first receive your new teeth. Initially, you may find that your dentures feel foreign and that it is more difficult to eat with them than you anticipated. But don't worry! With these simple tips, you'll soon adjust to your prosthesis and fall in love with your gorgeous new smile.
Take Small Bites
"Don't bite off more than you can chew." It's an old adage, but it rings true — especially for new denture wearers. When you had all of your natural teeth, you may have dug into your meals with gusto, taking big bites. That's more difficult with new dentures because you aren't yet used to your teeth and how they work within your mouth. To make eating as comfortable as possible and prevent your dentures from slipping, please take small bites. It's also a good idea to cut up your food into little pieces before you start eating it.
Don't Bite with Your Front Teeth
Biting with the teeth at the very front of your mouth might cause your dentures to become unstable and lead to gum irritation. If your food isn't already cut into small pieces and you have to bite off a chunk of something, use your canines (the eye teeth).
Chew on Both Sides of Your Mouth
Before you received dentures, you might not have given much thought to where in your mouth you chewed your food. However, now it is important that you distribute your food evenly across your back teeth. This exposes the dentures to equal pressure and wear and tear on both sides. This will help them last longer and reduce the strain on the gums underneath the dentures.
Choose Soft Foods
While you're still getting used to your dentures, it's best to stick to a diet that contains mostly soft foods that are easy to chew. Some examples include eggs, fish, pudding, and cooked vegetables. After you adjust to eating with your dentures, you can branch out and enjoy chewier and harder foods, like celery, apples, and steak.
Even after you become accustomed to your dentures, there are some foods you may want to continue to avoid. For example, nuts and seeds might get caught underneath your dentures and irritate your gums.
Ask Your Dentist for Help
If you still find that eating is a challenge after you've had your dentures for a few days, don't hesitate to contact your dentist in Cocoa Beach. They may be able to give you personalized tips on how to make the most out of your new smile. They can also make adjustments to your dentures if necessary.
Dentures can help you live a full life and enjoy a wholesome diet. We hope these tips enable you to adjust quickly to your beautiful new teeth!
About Your Cocoa Beach Dentist
Dr. Gary Nawrocki has been practicing dentistry for nearly 40 years. He has helped countless individuals to discover the benefits of dentures and other restorative treatments. If you would like to talk to him about regaining your lost smile, please contact our office at 321-783-7514.