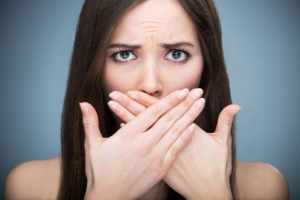 Everyone suffers from bad breath from time to time, such as after eating garlic or onions. For 35% to 45% of the population, the issue can be ongoing. When this occurs, it is known as halitosis. If you find yourself living with the unpleasant odor, it can lead to insecurities. You may avoid speaking because you are worried about the smell. To help stop it, the solution may be as simple as improving your flossing habits. If changes to your home oral hygiene routine are not enough, it may be time to visit your dentist in Cocoa Beach.

What Causes Bad Breath?
Bad breath is often due to food particles or bacteria that have been missed with brushing. As a result, they accumulate, leading to the unpleasant odor. If the buildups are not removed, it can lead to a more serious issue, known as gum disease. This occurs then the bacteria found in plaque and tartar cause the gum tissue to become infected.
Both poor oral hygiene and gum disease are leading contributors to chronic bad breath. Thankfully, with a few simple changes, you can restore your oral health to stop the smell.
How Can I Treat Bad Breath?
By making a few simple changes to your home oral hygiene routine, you can help to treat bad breath. If you do not floss regularly, now is the time to start. Flossing removes odor-causing accumulations that have been left behind when brushing. It addition, it helps to keep your gum tissue healthy to reduce your risk for an infection.
Not only should you floss every night before going to bed, but it is also best to brush your teeth properly every day. Use a soft-bristled toothbrush and fluoride toothpaste to clean all surfaces of your teeth for at least 2 minutes twice a day. Do not forget to brush your tongue.
You may also find the use of an antibacterial mouthrinse beneficial as well. It will help to reduce the number of bacteria in your mouth to stop the smell.
If changes to your home oral hygiene habits are not enough, it may be time to see your dentist. There may be a larger underlying cause that is leading to the odor, like tooth decay. Your dentist will pinpoint the issue to create a customized treatment plan to stop the smell.
Stop Living with Bad Breath
If bad breath has left you feeling self-conscious, you can stop the smell. Start by improving your oral hygiene. If that is not enough, contact your dentist for treatment.
About Dr. Gary C. Nawrocki
Dr. Gary C. Nawrocki has provided exceptional dental care to the community for nearly 30 years. Although he focuses on cosmetic and reconstructive dentistry, he also caters to personal issues, like bad breath. If you cannot treat the problem at home, he will find the underlying cause to create a personalized treatment plan. If you suffer from chronic bad breath, do not wait. Contact Nawrocki Dental today to schedule your consultation.