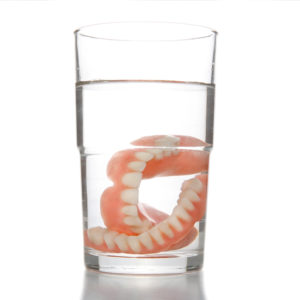 Dentures in Cocoa Beach are an investment in your smile and your oral health. They can look very natural and enable you to enjoy all of your favorite foods. Plus, they may be very comfortable and convenient. The last thing you want to do is take a misstep that will damage your artificial teeth and shorten their lifespan. So, then, how exactly should you care for your dentures? Use these tips to keep them in tip-top shape.
Cleanliness Is the Key
Just because dentures can't get cavities, that doesn't mean you should retire your toothbrush. Your artificial teeth can still collect plaque and food particles, which may lead to discoloration and bad breath. It's a good idea to brush your dentures daily with a soft-bristle toothbrush and non-abrasive denture cleaner. Be gentle — you don't want to scratch them. Before you brush them, though, rinse them to remove any excess particles that might be hanging onto them.
It's also important to keep the rest of your mouth clean. By brushing your gums, tongue, and palate, you can fight bad breath, gum disease, and infections.
Keep Your Dentures Moist
You shouldn't keep your dentures in your moth 24/7. Removing them for six to eight hours each day allows your mouth to have a chance to rest. But when you take out your teeth before bedtime, don't just set them on your bedside table and forget about them.
Dentures are meant to be in a moist environment, so when they're not in your mouth, they should be in water or a denture-soaking solution. This will keep them from warping.
Follow Directions
Some dentures stay in place via natural suction, but you might find that it's necessary to use an adhesive to keep your teeth where they belong. Whether the adhesive is a paste, strips, liquid, or powder, be sure to read the label carefully and follow directions for use. Your dentist in Cocoa beach might even recommend a specific product and give you tips on how to get the most out of it without risking that you might cause discomfort to yourself or damage to your dentures.
Handle With Care
On average, dentures last for five to eight years before they need to be replaced. Replacement is usually necessary because a patient's jaw has changed shape and not because the dentures themselves have worn out. They're tough prostheses and can put up with a lot — but they aren't invincible. If you accidentally drop them, they could break. When you take them out to rinse them, do so over a towel so they'll have a soft landing if you commit an oops.
Your dentures are an important part of your smile! If you take care of them, they'll take care of you.
About the Dentist
Dr. Gary Nawrocki has been practicing dentistry for decades, and he is as passionate as ever about providing top-notch care to his patients. If you are thinking about getting dentures or it's time for your next checkup, please contact our office at 321-783-7514.