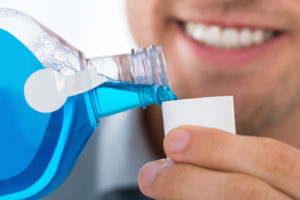 It's a common question we hear here at our dental practice — to rinse or not to rinse? Mouthwash sparks quite a lot of debate for people wondering how they can get the cleanest smile for the least effort. Do you need to use it? As with most things in life, the answer is, well, it depends. While mouthwash can help you achieve fresher breath and a cleaner smile, you do not have to use it to prevent cavities and gum disease. However, some people may want to use it if they are especially at-risk of oral health hazards like decay and infection. Keep reading to find out when to use mouthwash, and why!
What Is Mouthwash?
Mouthwash (or mouth rinse, if you prefer) comes in several types, but we will focus on two: cosmetic and antiseptic. These are the most common varieties you will find at the grocery store or pharmacy. A cosmetic mouthwash does just what it sounds like — it makes your breath smell pretty, but it does not do much beyond that. While your friends and coworkers may appreciate the minty or floral effect, rinsing with this type of solution has very little impact on your oral health.
If you really want to kill bacteria and maybe get that burning feeling that we associate with a good clean, choose an antiseptic mouthwash. Antiseptic means "against infection," so named because it kills the bacteria that can lead to plaque, tartar, and the resulting tooth decay and gum disease.
Rinsing your mouth with an antiseptic mouthwash once or twice a day can help you enjoy fresher breath and a cleaner mouth — so why isn't it mandatory practice?
No Replacement for Brushing and Flossing
The danger people run with mouthwash is mistaking it as a replacement for the gold standards of oral hygiene: routine brushing and flossing. Do not make this mistake. Swishing liquid around your mouth for half a minute does not do the hard work of removing plaque and food particles that happens when you thoroughly brush and floss your teeth. In fact, if you brush your teeth for two minutes, after each meal or at least twice a day and floss your teeth the right way at least once a day, you should not need to use mouthwash at all. And brushing your teeth to perk up your breath during that midday slump will do a lot more for your oral health, anyway.
The Conclusion?
So, what's our take on mouthwash? If you want to use it, go for it! Doing so can help you enjoy fresher breath and will make your mouth a little cleaner, too. Just make sure you are still brushing and flossing regularly, and that you choose an antiseptic mouthwash to ensure you get the full benefit of this piece of the oral hygiene puzzle.
Wondering what type of mouthrinse might suit your smile needs best? Your dentist can help with that — schedule a checkup and cleaning today!
About the Dentist
Dr. Gary C. Nawrocki is a general dentist providing comprehensive dental care from the comfort of his Cocoa Beach dental practice. To learn more about his services or to schedule an appointment for the same, go ahead and get in touch at 321-783-7514.