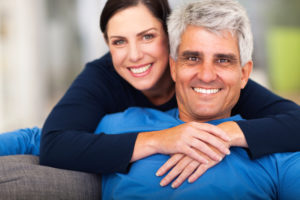 There are a lot of myths about dentures — beginning with the idea that George Washington's were made of wood (not true) and ending with the persistent misconception that dentures are always uncomfortable. The truth is, dentures have long been a trusted solution for people who have lost a substantial number of teeth. And thanks to modern materials and improved methods in tooth replacement, they have also never been more effective than they are today.
Even still, dentures can still provide something of a challenge for many patients — but it doesn't have to be that way. If you are dealing with loose or uncomfortable dentures, your dentist in Cocoa Beach wants to help.
Why Dentures Become Loose
The most common reason for loose dentures is about how your body reacts to missing teeth. When you have lost a tooth, you haven't just lost the part you can see. You are also missing the supportive root structure that brings important blood flow and nutrients to your jaw. That means over time, your jawbone will gradually begin to change.
Natural wear and tear on the prosthetic teeth caused by eating, speaking, and, well, living may also cause them to wear down and lose their fit. Suddenly, you may realize a denture that once fit perfectly may start to bother you in ways it never did before.
Visit Your Dentist ASAP
It is important to visit your dentist as soon as you notice your denture getting loose or causing you trouble. Sore spots in your soft oral tissues aren't just annoying — they are also hazardous for your health. Having a wound in your mouth leaves you at a higher risk of getting an infection that can spread to other areas of the body. Your risk of oral cancer may also increase with sores caused by poorly fitting dentures.
Your dentist can help by discussing the issue and evaluating the fit of your denture to provide a refitting or a replacement as needed.
Benefits of an Implant-Retained Denture
Traditional dentures require routine maintenance, and it is almost inevitable that they will cause some amount of discomfort when it's time for a replacement. A denture that is retained by dental implants, however, is sturdier and fits properly from day one and for years to come.
Dental implants in Cocoa Beach provide a replacement for the missing teeth's roots, too, preventing the loss of the jawbone structure and promoting better oral health for life. If your tooth loss is recent and you are in suitable oral and overall health, you are likely an excellent candidate for an implant-retained denture.
So what's the takeaway from all this? That being uncomfortable isn't just an unfortunate reality of living with dentures. An experienced dentist can help you find the solution that serves you best, so don't wait to get started!  
About the Author
Dr. Gary C. Nawrocki is a well-known provider of high quality cosmetic and restorative dentistry, including dentures in Cocoa Beach. To learn more about your options in tooth replacement or to get help for a loose or uncomfortable prosthetic, you are invited to contact the office at (321) 392-6150.