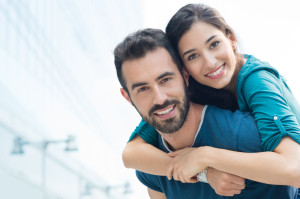 We're waging a war against periodontal (gum) disease here at Nawrocki Dental. It's one of the most common diseases for people in the US, with almost half of all adults suffering from the condition. The risk for gum disease rises above the age of 35, then again dramatically past age 55. Do you have gum disease in Cocoa Beach? Knowledge is power — keep reading to find out how you can tell, then schedule an appointment to seek treatment from Dr. Gary C. Nawrocki.  
Warning Signs of Gum Disease
When you visit your dentist for a checkup and cleaning every six months, we can help you steer clear of gum disease and catch any infection early. We'll check for the evidence of periodontal pockets, or spaces between your teeth and gums where bacteria builds up and eats away at your healthy gum tissue. Deep pockets indicate moderate to severe gum disease and the need for prompt treatment.
Only your dentist or hygienist can check for periodontal pockets. Some of the warning signs of gum disease you can look out for on your own include:
Red, swollen, tender gums

Gums that bleed when you brush or floss

Gum recession

Persistent bad breath or bad taste in the mouth

Sensitive teeth

Shifting or loose teeth
Gum Disease Treatment
The very first stage of gum disease is known as gingivitis, or minor inflammation of the periodontal tissue. Gingivitis can be reversed with improved oral hygiene at home and maybe a couple extra cleanings at Nawrocki Dental.
After the disease progresses, we may recommend treatment with nonsurgical scaling and root planing. Also known as a deep cleaning, scaling and root planing removes infection-causing bacteria from above and below the gum line. Your hygienist or dentist uses special tools to clean around the tooth and in the infected pocket, or the space where the infection lives. Then, planing smooths the tooth's root to prevent reinfection. Scaling and root planing may be carried out over the course of several visits to our office for full healing.
The most severe cases of gum disease, or periodontitis, may require surgical treatment combined with gum grafting to replace lost periodontal tissue.
Preventing Gum Disease
After we treat gum disease, you will want to take the necessary steps to prevent reinfection. Preventing the condition is easy — it just takes proper oral hygiene and regular visits to your favorite dentist in Cocoa Beach!
Prevent gum disease by…
Brushing your teeth for two minutes, after each meal or in the morning and at night

Flossing your teeth daily

Maintaining a balanced, nutritious diet

Quitting or staying away from tobacco

Seeing your dentist every six months
Swollen, Tender Gums? Talk to Us Today!
Dr. Nawrocki is an expert in the detection, prevention, and treatment of gum disease. If you suspect you or a loved one are dealing with the condition, please do not hesitate to get in touch with our office! Request an appointment today.