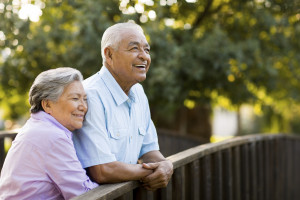 If you have suffered significant tooth loss, you've got options when it comes to how to replace those missing teeth. Today's dentures are better than the kind your grandparents probably wore, which is great news for your smile. Dr. Gary C. Nawrocki offers full and partial dentures in Cocoa Beach.
A Full Denture for a Complete Row of Teeth
Patients who are missing all of the teeth in the upper or lower jaw need a full or complete denture. It is made of prosthetic teeth that are affixed into an acrylic base that looks like your gum tissue. A full denture is held in place with natural suction and with the help of a denture adhesive as needed.
Full dentures for the upper jaw cover the roof of the mouth. A full denture for the lower teeth is shaped like a U and allows your tongue to move freely and comfortably.
A Partial Denture Fills In the Gaps
If you still have some healthy teeth remaining in the jaw, that's great. A partial denture will help them stay healthy and in the proper position. The replacement teeth are secured in the smile with metal brackets that are affixed around the natural teeth. Like a missing puzzle piece, a partial denture clicks securely into place. A partial denture can replace any number of teeth missing from anywhere in the jaw.
Dental Implants Provide Additional Security
People who are eligible for dental implants should strongly consider them. Dental implants stabilize the jawbone and promote better oral health over a lifetime. By replacing your tooth's root as well as its crown, dental implants provide lasting security for a full or partial denture. Talk to your options in tooth replacement with Dr. Nawrocki to find out whether or not dental implants are a good solution for your smile.
Denture Basics
Whether you need a full denture or a partial, your new teeth will be created out of high quality, natural looking materials according to the specific dimensions of your mouth. Your dentist will take molds of the jaw and any healthy remaining teeth. The denture is manufactured in a separate lab and will be ready for use in a couple of weeks.
You do not wear a removable denture 24 hours a day. Take it out at bedtime and soak it in room temperature water or a denture solution to keep it from drying out. Clean your denture as recommended, brushing gently at least once a day with a mild hand soap. Brush your teeth and rinse your mouth after each meal, too.
Need Dentures? Talk to Us Today
If you are dealing with significant tooth loss or are on the brink of losing all your teeth, please don't wait to get in touch with Dr. Nawrocki to explore your options in tooth replacement. We provide comprehensive solutions for missing teeth, including full and partial dentures as well as dental implants! Request an appointment with your dentist in Cocoa Beach today.